LawrieCo works with farms across Australia to produce better quality soil and plant performance enabling them to produce better quality crops, higher yields, healthier animals and importantly, increase water retention and build soil carbon.  All of which result in greater returns for the farmer.
We believe for any farmer; soil is our greatest asset.
Going beyond the yield; As farmers, we are passionate about seeing the industry in Australia succeed. We have worked to develop initiatives for farmers that would see them generate income from the carbon they sequester in their soil.
The changes farms we work with see; Better quality soil enables farms to improve performance of their production and returns. For cropping and horticulture, the quality of the soil impacts the bottom line from yield to shelf life.  For graziers, soil quality impacts the health, fertility, and growth rate of animals and eventually, the bottom line.
Smarter, more efficient farming methods are necessary to ensure profitable, sustainable farm enterprise and overcome the key concerns we see on farms we work with. Those key concerns are growing more with less, water scarcity and the changing climate, and a significant decline in soil quality.
Our technology works with already established fertiliser techniques and programs to balance out the nutrition and biology of the soil. Our solid and liquid fertilisers are easy to apply, and are derived from natural materials such as bacteria, plants, fungi, minerals, and trace elements. All of our products are a result of extensive research and development, with more than 20 years of successful results across Australia.
The team of LawrieCo experts provide analysis, advice and nutritional planning to farms and distribution partners across a range of industries including: broadacre cropping, pasture, dairy, horticulture, viticulture, tree crops, turf and landscape. The LawrieCo team support growers in adopting of soil carbon projects  and practices to build soil carbon.
For 25 years, LawrieCo has worked and continues to work to develop next generation nutrition and biological products. Our products have been specifically designed to help improve soil quality in a way that protects the farms greatest asset and importantly, increases the return on investment for farmers for years to come.
Brendan Partridge - VIC & Riverina
0456 802 693
Brendan is from a farming background in the Victorian Western Districts and has managed large scale broadacre properties in Victoria. He has a real passion for working with clients, extenuated by his outgoing and approachable personality, history of farming experience and his understanding and knowledge of cropping and agriculture. Prior to joining LawrieCo, Brendan spent 5 years as Regional Sales Manager and Victorian Hub Manager for Precision Agriculture and was responsible for identifying and pursuing new business opportunities across Victoria. With his experience in business development, coupled with his farm management experience, Brendan will bring strong experience to our team.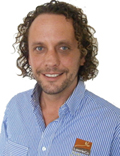 Rodney Capon - NSW & WA
0409 822 011
Rodney is originally from Adelaide where he started out as a landscape gardener. He moved to the Sunraysia area in Northern Victoria / Southern New South Wales in the late 90s where he was involved in several large scale horticulture developments with a key focus on soil improvement and fertility. As part of his many roles he was involved in the importation and trials of humate plant and biological based soil conditioners. Rodney then entered into the nursery industry where he continued to learn the importance of soil carbon and soil biology. In the mid 2000s he changed direction and took control of a large dry land cropping / grazing property also comprising irrigation and some horticulture. Here he experimented with more humates and biological inoculants having outstanding results. He is excited to now be part of the LawrieCo team and to helping others gain the rewards of healthy soil.
John Paynter - SA
0438 159 656
John is an experienced Agricultural professional having spent over 11 years working with biological fertilisers. John has worked with a wide range of clients and distributors, from wineries to large commercial agricultural operations, all with the goal of providing effective and sustainable solutions to their input needs. John is committed to providing innovative and sustainable solutions to the challenges facing modern agriculture. John will work closely with growers to develop customised programs tailored to their specific needs. LawrieCo is proud to have John on board as an advocate for the use of biological fertilisers as a key component of sustainable regenerative agriculture. Away from work John is a keen gardener and maintains an interest in most sports. He is a Member of the SANFL Hall of Fame having played for Glenelg, Sturt and South Australia.
Gordon Childs - SA & Horticulture
0447 750 963
Originally from a farming background in the Coonawarra region in the South East of South Australia, Gordon now lives in Adelaide with his wife Jane and 16-year-old son Sandy. Gordon brings a wealth of sales and technical experience to LawrieCo in both the broadacre and horticultural markets, spending most of his career in commercially based technical roles. Having run his own seed production, cereal cropping, prime lamb and beef enterprises, in addition to producing vegetables for 10 years, Gordon brings a wealth of practical experience. All this was achieved prior to his agronomic career based in the Coonawarra Region. Gordon has worked for rural resellers, Abbot Laboratories in biological crop protection, PlantTech Seeds, and then, for the past 6 years has been with Organic Crop Protectants (OCP) in a Product Development and Area Sales role. Gordon adds to the strength of our team bringing an experienced technical perspective while also adding value to our customers in the key horticultural segments: Viticulture, Almonds and Potatoes. Possessing a strong passion for soil and plant health utilising the benefits of biological input management, whilst also building soil carbon, Gordon is well positioned to help his customers capitalise on the new carbon trading project that LawrieCo has designed. Gordon will be based out of Regency Park.
Ian Clarke - WA
0429 116 511
Ian is a farmer in Goomalling WA with 15 years of experience in Biological inputs on prior conventional farm. "I build on the winners, crops this year with very low rain looks like our crops did in past good years. LawrieCo biological fertiliser products work well— I am keen to help WA farmers profit from Carbon regenerative system"
Olivia Grivell - Founding Director
Originally from a mixed cropping & sheep farming property in the southern flinders ranges. In 1997 Olivia cofounded LawrieCo with father Adrian Lawrie. Olivia plays a key role in LawrieCo's research and development function; refining product offerings and systems to improve the experience growers have in farm adoption of biological science. "It is exciting to see on-farm improved productivity and profitability, whilst growing healthier plants, stock and soil. Proudly, many of our clients are the leading growers in their ag-sector." Olivia's life work has enabled the evolution of the LawrieCo Carbon Regeneration System.
Mat Denton - Chief Executive Officer
Originally from Rural Western Australia Mathew has been involved in the Agricultural Industry for over 40 years. During this time he has held senior board and Chair positions in the Chemical, Wool, Seed and Fertiliser markets across Australia. This followed an extensive 24 year career with Australia's largest Agricultural retailer, culminating as leader of the national business. Mathew's passion for Agricultural sustainability has now seen him take on the role as Chairman of LawrieCo. With a clear charter to develop innovative ways to support the development of a new Carbon industry for Australia's producers Mathew is working across the industry to enable the role out of these exciting initiatives
Adrian Lawrie - Director Soil Carbon Systems
Adrian is a 5th generation Port Pirie SA dryland cropping farmer. He started LawrieCo in his attempts to build Soil Carbon, including early adopter No Til machinery, 25 years of trials , design and development of Biological Fertilisers, and sharing with fellow farmers. LawrieCo Soil Carbon Regeneration System is recognized as profitable, reliable, and predictable pathway to rebuilding soil health and improved food quality from the farm.